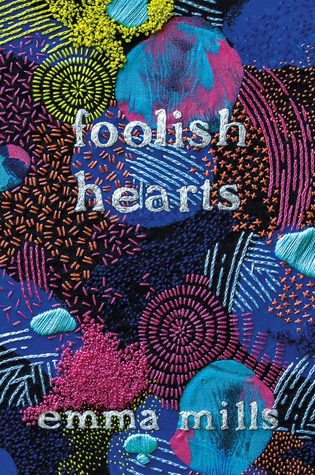 Title: Foolish Hearts
Author: Emma Mills
Publisher: Henry Holt & Co.
Genre: Contemporary
Format: Hardcover (Owlcrate exclusive edition)
Spoiler Review: Foolish Hearts
Synopsis
The day of the last party of the summer, Claudia overhears a conversation she wasn't supposed to. Now on the wrong side of one of the meanest girls in school, Claudia doesn't know what to expect when the two are paired up to write a paper—let alone when they're both forced to try out for the school production of A Midsummer Night's Dream.
But mandatory participation has its upsides—namely, an unexpected friendship, a boy band obsession, and a guy with the best dimpled smile Claudia's ever seen. As Claudia's world starts to expand, she finds that maybe there are some things worth sticking her neck out for.
Rating: 3.75
I don't usually read contemporaries, but I decided to try this book because it mentioned Shakespeare and theater in the synopsis, which are two of my favorite things!
The writing was the main reason I got into this book – it's realistic, and easy-to-read yet not necessarily simple.
Also the dialogue was hilarious! I love books that make me laugh out loud and Foolish Hearts definitely did that.
Iris has got to be my favorite character! I can't get too into it, but I loved her character arc and finding out who she is as a person.
Claudia was a good main character, but I didn't realize her name was Claudia until a few chapters in (why? I don't know). I thought her name was Emma…which is the author's name. Also, she's incredibly awkward – especially in the beginning! And I didn't expect her to be a gamer – I loved all the gaming references.
Gideon was so close to placing first! He's perfect – but not in a stereotypical way. Plus, much like all the characters in this book, he had layers to his personality instead of just being a background character.
The friendships and family dynamics were perfect – very realistic, and always there.
One thing I noted about all the characters in Mills' book is that they all have another side to them. You think a person is just empty-brained and flighty, then Emma has to tutor them in Shakespeare and all-of-a-sudden they actually have character. I think that's a very honest portrayal, and made it really interesting every time Claudia talked to someone else.
I liked the storyline…for the most part. It was fast-paced but not rushing, and something was always happening, good or bad.
But there was a certain plot twist at the end that I A) casually expected and B) was totally out-of-character for everyone involved.
There were three people in the situation – including Claudia – and the way that the three of them handled it was out-of-place, and felt like false drama, just to make the story go on.
If you've read the book, this is one plot point I'd love to discuss below – or you can discuss with me on Goodreads, where I go further into my thoughts on it in my spoiler review (HERE)
There was a lot of turmoil and second-hand embarrassment in the beginning I felt it wrapped up nicely, and everything was back on track by the last chapter. And reasonably so – after that one plot twist, everything went back to feeling natural.
Would I Recommend This Book?
Yes, I would. If you like contemporary, you'll love this book! If you like theater or Shakespeare, this is an excellent book for that – or even if you don't. It's not mentioned everywhere, so you can still enjoy the story.
Discuss with me!
Have you read this book? Do you want to?
Comment section is below