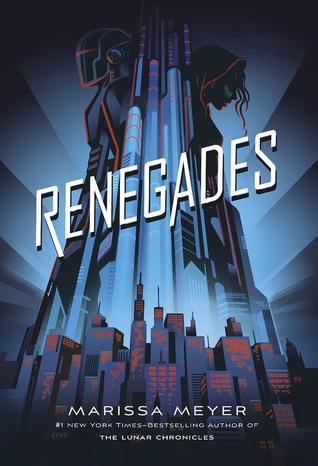 Title: Renegades
Author: Marissa Meyer
Publisher: Feiwel & Friends
Genre: Sci-Fi \ Dystopian
Format: Hardcover (Signed B&N edition)
Spoiler Review: Coming soon
---
Synopsis
Secret Identities. Extraordinary Powers. She wants vengeance. He wants justice.
The Renegades are a syndicate of prodigies — humans with extraordinary abilities — who emerged from the ruins of a crumbled society and established peace and order where chaos reigned. As champions of justice, they remain a symbol of hope and courage to everyone… except the villains they once overthrew.
Nova has a reason to hate the Renegades, and she is on a mission for vengeance. As she gets closer to her target, she meets Adrian, a Renegade boy who believes in justice — and in Nova. But Nova's allegiance is to a villain who has the power to end them both.
It's no secret that it takes me FOREVER to read a book, especially if that book is 400+ pages.
I started Renegades when I was in more of a fantasy mood, and so I found the beginning interesting, but slow to read. But then around 60-100 pages, it became molasses. It was so slow.
Once I got past the 100-120 mark, it picked up and became easier to read. This might have been because I was in a superhero-type mood (I started binging The Arrow again in anticipation of season 6), and from there it took me about two days to finish the rest of it.
Which, for me, is considerably faster than usual.
I thought the pacing throughout the book was good (minus those rough 50 pages or so) but weird in terms of the events.
There are three major events in Renegades, and they all took multiple chapters to get through. I didn't mind this, as I was enjoying the book, but it seemed like we could have cut down a bunch of pages.
This might be building up to the second book, but I'm unsure as of right now.
The story itself was interesting, and it definitely started off with a bang…which, if you've read this book, might not be the best comparison. It kept me interested, and there was a lot of backstory, which makes me think it's building up to something in Archenemies.
The ending was definitely a cliffhanger, and I'm really nervous to see what happens. Not even excited – just nervous. I know how I want this to work out, but I'm not sure how we're gonna get there.
Overall,the Renegades storyline did keep my interest, and it played out like a DC show would.
I really love the characters! I mean, I always love Marissa Meyer's characters, but the representation and the relatability and the banter: it was all perfect!
One thing I love about Meyer is that I've seen her work improve since The Lunar Chronicles. One thing people always said about TLC was that they weren't very diverse. And since then, I've seen her add more diversity and rep in Heartless and Renegades.
Both our main characters are people of color (at least, I pictured Nova as a person of color. I might have missed the description, but I'm fairly certain I'm right), we have LGBTQ side characters and we even have disability rep (for one of the Renegades, no less).
Nova is so interesting to follow! From the synopsis, she sounds somewhat typical, but she is really stuck in her ways and what she believes.
Adrian is interesting for the opposite reason: he's inherently good, and when you get to see his side of everything versus Nova's, it really rounds out the story. And his team! They're all amazing and so much fun!
How are characters work together and act as a group is really interesting and realistic, and you could see each of their personalities every time they were on the scene. We don't see Danna much, but I'm excited to get to know her more in Archenemies.
Final Rating: 5\5
I mean, I would be lying if I said I didn't have some bias in this case. I love Marissa Meyer's writing, and I have since The Lunar Chronicles. But I truly enjoyed Renegades.
While reading this book you WILL notice how ridiculous superhero stories are, though. Like, codenames sound cool in shows, but once you see them spelled out you realize how cheesy it all is.
Also, I genuinely believe that DC should make Renegades into a show. Just throwing that out there.
---
Have a delightfully thoughtful day, Book Ravens ❥
– Marrill