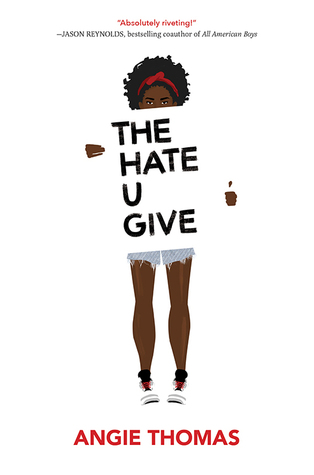 Title: The Hate U Give
Author: Angie Thomas
Publisher: Balzer + Bray
Format: Hardcover
Spoiler Review: to be posted
---
Synopsis
Sixteen-year-old Starr Carter moves between two worlds: the poor neighborhood where she lives and the fancy suburban prep school she attends. The uneasy balance between these worlds is shattered when Starr witnesses the fatal shooting of her childhood best friend Khalil at the hands of a police officer. Khalil was unarmed.
Soon afterward, his death is a national headline. Some are calling him a thug, maybe even a drug dealer and a gangbanger. Protesters are taking to the streets in Khalil's name. Some cops and the local drug lord try to intimidate Starr and her family. What everyone wants to know is: what really went down that night? And the only person alive who can answer that is Starr.
But what Starr does or does not say could upend her community. It could also endanger her life.
Let's all just ignore the fact that I completely missed the hype train. Yes, much shame is felt – LET'S MOVE ON.
I really liked the writing style. It was easy to read, which is always a plus, but not simplistic.
Usually modern-day references only work to date the book and take me out of the story, but in this case, I found that I really didn't mind. Maybe because there was more than one reference? Or maybe it was the writing style? I'm not sure, but I really liked it.
I felt so many emotions while reading THUG. For example, the funeral scene at the beginning of the book. There have been a few books that make me tear up but it's been a long time since I've had to actually put the book down because I was crying so hard and couldn't even read the words (*cough* Mockingjay). It went to the point where my mom had to ask if I was okay. (the answer was no, for the record).
Also later in the book was just an emotional rollercoaster. And not just sadness; frustration at a certain most-definitely-racist character and Starr's need to hold onto them (DROP THEM).
And don't get me wrong – I would NOT say this is a sad book. It's just real. That's exactly what I felt while reading THUG and even afterward, looking back, it just seems like such a REAL story.
I can't even really describe it but I get the feeling that, if you have read this book, you get what I'm saying.
Starr's family has to be my favorite fictional family I have ever read about. On par with Percy and Sally Jackson.
Her brothers are just so awesome and as someone with brothers, I could relate very much.
And Starr's relationship with her Uncle was so unique (to other things I've read in YA books). I found that his perspective during this whole book was just so…different? It provided two sides and it added a lot to the story as a whole.
Starr and Chris are just so cute and OTP worthy, TBH. I'm not going to go too much into it but I just want them to be happy.
Maya's awesome. There's not much more to say. She just is. (Also, did they change her ethnicity for the movie? Because I saw the actress they cast, and she looked totally different than I pictured her? But also I don't remember them describing her directly, so maybe I missed something).
I always talk about how all YA fantasy books are the same and, TBH, that can also apply to contemporary books.
But THUG is different from every other book I've read – not only because it featured a black protagonist, but because the setting was different. Garden Heights has different struggles from the typical subdivision. It just felt different from anything I knew.
Overall Rating
I was hesitant to read this book because I don't usually like contemporary books! So what if I don't like the actual book but like the message? Would I be the odd one out? basically the hype got to me
Turns out: This book is gorgeous and real and I cannot believe that I waited so long to read it. 5\5, 10\10, 100% – ALL THE HIGH RATINGS.
So if you're holding out, don't. Trust me.
What did you think of The Hate U Give? Are you excited for the movie? I've just joined the hype for the movie and I can't wait for October!
Have a good weekend, bibliophiles!
-Love, Marrill