Hello!
Week two of NaNoWriMo! This week wasn't as successful, and has lead to an existential crisis or two, but I've made it.
…Which leads us to today's topic. A pep talk. Maybe I should have saved it for later in the month but I really needed it, so I figured one of you might as well.
NaNo WIP Update
Title: Melora
Word count: 11,402
Hardest part so far: The fight scenes!
Easiest part so far: Descriptions and names. I've had to google German name meanings a few times but tbh I find that to be fun (when it works in my favor, that is.) I'm getting excited to finally introduce new characters!
---
A pep talk for those who need it
Okay, so you're probably having trouble in this second week of NaNo. Maybe you've run out of ideas, or maybe you aren't happy with what you're writing. Or maybe you forgot to update your numbers one day and now can't get the "update every day" badge and are really bummed about it (me). 
That's understandable! And you aren't alone. In the wise words of Victoria Schwab, "Writing a book is 90% feeling inadequate to the task, 5% hope, and 5% joy and victory."
Honestly she writes the best quotes.
Getting back to the point, every single published author has been where you are now. Even your favorite authors who seem invincible. Every creative person struggles with their creative vision at one point or another. So when you don't meet the word count, just remember that you have all the time in the world and you don't have to finish by December.
Would it be cool? Yes. But there's no point in stressing yourself out because of a deadline. Wait until you're published to do that.
If you need a day off? Take it. If you need to do more research before writing? Do that research in your own time. If you're stressed, you won't like anything that you're writing.
If you're motivated to start writing, but have no idea where to start, then follow one – or more – of these steps for help:
🠚 Find a new song for your writing playlist and switch things up
🠚 Ask a friend for random prompts for a scene (example: an orange, a piano and a shoe – just the one shoe)
🠚 Make a moodboard
🠚 Read a book or watch a movie in the same genre as your book. Inspiration may just strike
🠚 Bribe yourself with chocolate to get the word count number. Which is definitely not what I do.
🠚 DO NOT COMPARE YOURSELF TO OTHERS
And above all…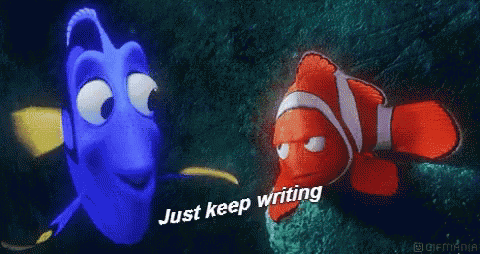 How's your NaNoWriMo novel going? What's your word count?
-Marrill