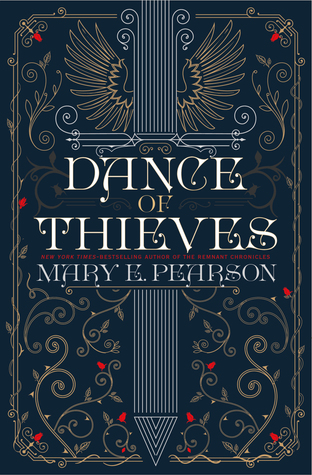 Title: Dance of Thieves
Author: Mary E. Pearson
Publisher: Henry Holt and Co.
Format: Hardcover
Goodreads review: here
---
When the patriarch of the Ballenger empire dies, his son, Jase, becomes its new leader. Even nearby kingdoms bow to the strength of this outlaw family, who have always governed by their own rules. But a new era looms on the horizon, set in motion by a young queen, which makes her the target of the dynasty's resentment and anger.
At the same time, Kazi, a legendary former street thief, is sent by the queen to investigate transgressions against the new settlements. When Kazi arrives in the forbidding land of the Ballengers, she learns that there is more to Jase than she thought. As unexpected events spiral out of their control, bringing them intimately together, they continue to play a cat and mouse game of false moves and motives in order to fulfill their own secret missions.
---
Yes, I did read this a long time ago.
But I've been rereading it since it came out – in August – and I just haven't gotten around to it yet. I never reread books, so this is quite a feat.
–
I love Mary E. Pearson's worlds, first of all. They always inspire me to write. And the expansion of the world from the original trilogy didn't disappoint! Hells Mouth was the most interesting thing to me. I loved the mental picture I got from that setting.
–
Jase has one of the best fictional families ever. I think I can confidently say that the Ballenger family is right up there with the Weasley's. I liked his character because he had strong morals and loyalty to his position, and family. (Look, I'm a Gryffindor. These are traits that I value)
Kazi story is heartbreaking, but she's easy to sympathize with. I liked how her strength didn't mean she was emotionless. That's something I find a lot in YA protagonists, and it's not very relatable tbh.
And Wren and Synove were well-rounded and enjoyable side characters. This goes for Jase's siblings as well, though I preferred Wren and Synove.
There were characters I liked, characters I loved, and characters I wouldn't hesitate to throw into Tartarus. I love a well-rounded emotional experience 👍
–
The plot was intriguing, and even rereading it, I was never disinterested. I can only imagine when the sequel will go! (I mean, that ending…)
–
And the cameos! We saw some of the characters from the first trilogy and it literally made my heart so happy. Like I was seeing an old friend again.
5\5
---
What did you think of Dance of Thieves?
–Marrill