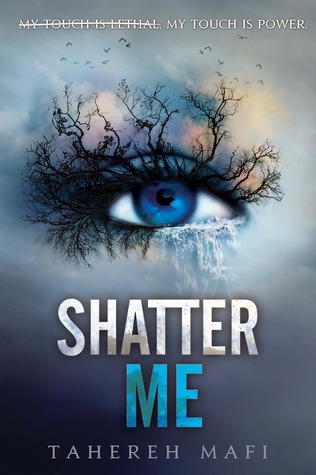 Title: Shatter Me (#1)
Author: Tahereh Mafi
Genre & Themes: Dystopian
Publisher: HarperCollins
Format: paperback
---
Synopsis
Juliette hasn't touched anyone in exactly 264 days.
The last time she did, it was an accident, but The Reestablishment locked her up for murder. No one knows why Juliette's touch is fatal. As long as she doesn't hurt anyone else, no one really cares. The world is too busy crumbling to pieces to pay attention to a 17-year-old girl. Diseases are destroying the population, food is hard to find, birds don't fly anymore, and the clouds are the wrong color.
The Reestablishment said their way was the only way to fix things, so they threw Juliette in a cell. Now so many people are dead that the survivors are whispering war – and The Reestablishment has changed its mind. Maybe Juliette is more than a tortured soul stuffed into a poisonous body. Maybe she's exactly what they need right now.
Juliette has to make a choice: Be a weapon. Or be a warrior.
---
WRITING
The first time I read Shatter Me, years ago, I liked how poetic the writing was. Now it just seems melodramatic – like I was reading a soap opera.
I'm hoping I get used to it as I read more and Juliette matures. I hope Juliette matures
I will say that it was entertaining and easy to read, though. So I guess there's that.
STORYLINE & PLOT
I mean…I hate to say all dystopian plots are the same.
But all dystopian plots are the same.
Shatter Me does bring in a bit of a new touch (haha, get it?) with Juliette's abilities, but then kind of diminishes that when you find out it only works on *some* people.
I do know how long this series is, though, so I'm trying not to be too judgmental yet. It's becoming difficult.
CHARACTERS
I really only liked Kenji. Sassy, sassy Kenji ( I can't help it – I love those characters!).
Juliette was a bit melodramatic, as I said, Adam was boring and Warner was a professional, grade-A ass. I felt connected to no one and that makes it really hard for me to read a book.
RELATIONSHIPS
Honestly, I've heard a lot about Warner. But I thought he was an asshole and I hate him a lot. (I had similar feelings about the Darkling and he never redeemed himself so…🤷🏼‍♀️)
IDK how he's going to turn this around
Otherwise I wasn't impressed with Adam. He's overprotective and temperamental (two traits that I hate but are v common in YA).
WORLD BUILDING
I mean, it's a dystopian so how much can there be?
We really only have two locations, and they look almost exactly alike.
I was slightly confused as to what the rest of the world was like, and what the citizens' attitude was, and I'm hoping we delve into it more in the future.
---
I read this book for the READ BOOKED club on Instagram, and everyone else in the group wants to finish the series in the next few months…so I guess I'm going to as well 🤦🏼‍♀️ So look forward to those review – maybe my opinions will change…
What did you think of Shatter Me?
-Marrill