You all know that The Blood Spell is one of my most anticipated releases of 2019.
I love the Ravenspire books – if you'll remember, I had very, very few 5 star reads last year. And two out of the three were The Traitor Prince and The Wish Granter.
Needless to say, I couldn't have been more excited when C.J. Redwine agreed to do an interview with me! I loved her answers to my questions, and I hope you do too!
---
About the Author
C.J. Redwine is the author of the fantasy series Defiance, as well as numerous retellings, including The Shadow Queen, The Wish Granter, The Traitor Prince and, the latest, The Blood Spell.
Known for adventures, giving you all the feels, the best quotes, and swoon-worthy romances 😍
Website \\ Instagram \\ Twitter \\ Goodreads
---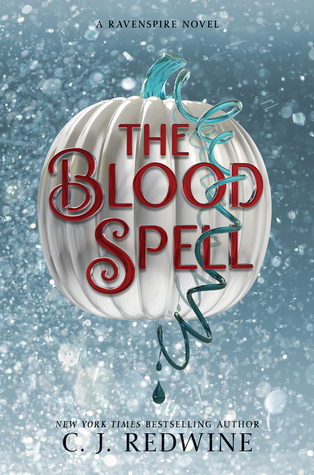 Q. To start, can you tell us a bit about yourself and your books?
A. I'm a movie addict. Seriously. I see several a month. I'm a Trekkie, a Gryffindor, a Browncoat, and a Star Wars girl since I was three. Marvel > DC, with the exception of Wonder Woman and Batman. I might even be Batman. No one has seen us in the same room at the same time so you do the math.

I live in Nashville, TN with my big family–my husband, five kids, two cats, and one neurotic little dog. Adoption has my heart (and is a big part of what has built our family), and my books often have themes of found family because of this.

I've been reading and loving fantasy since I first picked up The Lion, The Witch, and The Wardrobe in second grade. I started writing my own stories around the same time, and I've been writing ever since. My books are action-packed, high stakes fantasy (often with at least one dragon because DRAGONS) with characters who feel intimately connected to the reader. My current series is the Ravenspire series, a set of dark epic fantasies inspired by fairy tales. Each book is a stand alone set in adjoining kingdoms, and while there are Easter eggs if you read them in order, you can honestly read them in any order you want.

---
Q: What, or who, got you into writing?
A: I've been writing stories since the second grade. Part of that was because I just always saw the world as the beginning of a far more interesting story. The vine-covered awning at my neighbor's house must certainly lead to the faerie kingdom. A decrepit house along the side of the highway covers a portal to a super high-tech alien civilization. A song on the radio brings characters to life in my head. It's always been like that for me. But another part of it was that I had a very difficult childhood. I was abused for years by my grandfather, and stories became my only escape. I especially loved fairy tales and second world fantasies like the Chronicles of Narnia or Lord of the Rings because it was a true escape from my world, and so when I was experimenting with my voice as I began writing for publication in my 30's, I found my home in second world fantasy.
---
Q: Do you write with music? And if so, what song puts you in the mood for writing The Blood Spell?
A: I do! And all my playlists are public on Spotify. Here's a link to the playlist for The Blood Spell: https://open.spotify.com/user/1213294486/playlist/0XMBWKclJDTcC400jQyHKT?si=74wh2krZTsqrlBauJCwtlA
---
Q: The Ravenspire books are all standalones, but their stories connect. Was that the plan from the first book, or did it just happen?
A: Yes, that was always the plan. I wanted to explore the fairy tales that were so important to me as a child, and I wanted the space to build out a fairy tale universe where characters and histories could connect, but where each kingdom could contain its own fairy tale.
---
Q: When you first wrote The Shadow Queen, did you already know which stories you would retell in the future?
A: Yes. My publisher asked me to plan it out so that the map artist would know what type of fairytale symbols to work into the map's edges.
---
Q: Do you have any advice for aspiring writers who want to write fairy tale retellings?
A: Choose the iconic moments and themes that need to remain so that readers have the fun of recognizing those (like the fairy godmother giving Cinderella a dress or the poisoned apple in Snow White) and then build your own unique world, with rules that make the tale's magic make sense, and build a new story based loosely on the framework of the old.
---
Q: Which character was the hardest to write, and which was the easiest?
A: The easiest was absolutely Ari from The Wish Granter. She's the most like me of any of my characters, so her voice just came to me instantly and remained strong. The hardest was Lorelai from The Shadow Queen. She stayed so closed off and cautious, and it wasn't until the final edit that I changed something important (I created her brother, Leo, who is her opposite and who brings her out of her shell), and she finally unlocked for me.
---
Q: One of my favorite things about your books is the romance! Is there anything that you think is essential for creating a good romance between characters?
A: I think a good romance can only happen if the two characters each bring something to the relationship that the other person needs without realizing they need it. And I think it only works if the characters develop friendship and trust first. I'm also a big fan of having each character recognize a wound in the other person and be uniquely equipped to understand or speak truth to that wound.
---
Q: Have any authors or books inspired your writing?
A: So many! I'm constantly finding inspiration in the books I read. I'm such a fan of so many authors that I'm not even sure where to begin here, lol. Here's a SHORT list of some of my personal faves who inspire me to write vivid worlds, swoony romances, and epic stakes: Kristin Ciccarelli, Jodi Meadows, Emiko Jean, Katie McGarry, Courtney Stevens, Kendare Blake, Sabaa Tahir, Evelyn Skye, Alexandra Christo … I'll stop there, but I could go on and on. 🙂
---
Q: Are any of your characters\settings based on real people\places?
A: Not very often, but in The Blood Spell, the prince's little sister, Nessa, is based entirely on my youngest daughter, Izzy. Izzy is a vibrant, creative, empathetic, joyful girl with more courage than anyone I've ever known. She's faced three open heart surgeries, two other surgeries, abandonment, adoption, and has more surgeries in her future. She has a condition called pharyngeal dysfunction, and long story short, it means she cannot form most consonant sounds. While she has a beautiful little voice, and she chatters with us non-stop, she uses sign language to communicate clearly. I've never seen a character like her in a book, and it made me sad to think she might grow up never seeing herself in books. So, I wrote her as the character Nessa, who is a spark of joy and courage, who uses sign language, and who has a very heroic role in the story.
---
Q: What Hogwarts houses would Blue and Kellan be in?
A: Blue is a Gryffindor through and through. Justice, courage, and "oh, the world is going down in flames? I'm diving in because someone has to fix this." Kellan is a Slytherpuff. Is that a thing? I'm going to say that's a thing. He's a Hufflepuff when it comes to people, but he's a Slytherin when it comes to managing the difficulty of ruling his kingdom.
---
Q: Any hints on what you could be working on on the future?
A: I can't say much, so I'll just say: An arranged marriage, a bloodthirsty ruler, a prince forced to go undercover as a handmaiden to spy on an enemy princess, and terrifying monsters crawling out of the sea.

---
Can I just say that arranged marriage, undercover prince, and monsters sounds SO up my alley 😍
I'm very grateful that C.J. Redwine agreed to do this with me, and I hope you enjoyed this interview as much as I did! Please check out the Ravenspire books (you'll thank me later) at Amazon, Book Depository or your local library!
-Marrill