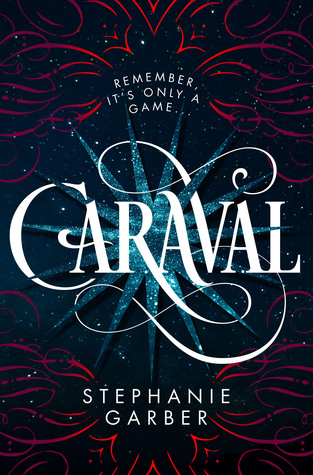 Title: Caraval (#1)
Author: Stephanie Garber
Cover Rating: 3\5
Buy
Amazon: Caraval
Book Depository: Caraval
Synopsis: Scarlett has never left the tiny island where she and her beloved sister, Tella, live with their powerful, and cruel, father. Now Scarlett's father has arranged a marriage for her, and Scarlett thinks her dreams of seeing Caraval, the far-away, once-a-year performance where the audience participates in the show, are over.
But this year, Scarlett's long-dreamt of invitation finally arrives. With the help of a mysterious sailor, Tella whisks Scarlett away to the show. Only, as soon as they arrive, Tella is kidnapped by Caraval's mastermind organizer, Legend. It turns out that this season's Caraval revolves around Tella, and whoever finds her first is the winner.
Scarlett becomes enmeshed in a game of love, heartbreak, and magic with the other players in the game. And whether Caraval is real or not, she must find Tella before the five nights of the game are over, and her sister disappears forever.
---
★ ★ ★.5
This book was so amazing! I'd heard some good things, but seriously, it exceeded my expectations.
I liked Scarlett a lot, I didn't have any problems with her, and she didn't jump to any stupid conclusions (at least, not ones that I didn't also jump to).
I really, really loved the side characters: Tella, Julian (especially Julian!), Dante – all of them were super interesting to me! I loved figuring out their individual pasts, and I would not mind a few novellas on those characters.
I loved the relationship between Scarlett and Tella, although I can't relate. I'm all for romantic relationships, but sometimes it's nice to have good family connection or two.
Speaking of romantic relationships…Oh. My. Gosh.
I loved the romance in this book, even though it killed me about three times. Four? No, I think it was three. I've lost count at this point.
The storyline is incredible mysterious and the twists I never saw coming. I assumed a lot of things, and none of them were right. None of them.
It is very obvious that this is a debut novel, but I expect that to be fixed in book two.
There's so much I want to say! But I can't! Cuz you might kill me if I write any spoilers!
Overall Thoughts
This book has given me trust issues. Read it, and we can have a community therapy session together.
---
Contact: marrillcollins@gmail.com